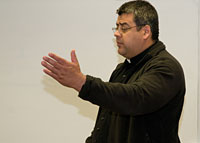 Our Curriculum
Following is the SJVS High School Curriculum.
Religion
4 years
History
4 years
Government / Civics
World History
U.S. History
Church History
English
4 years
Grammar/Literature Overview
Grammar/U.S. Literature
Grammar/British World Literature
Grammar/Shakespeare
Science
4 years
Physical Science
Biology
Chemistry
Human Anatomy & Physiology
Math
3 years
Algebra I
Geometry
Algebra II
Advanced Mathematics – elective (senior year)
Calculus – elective (senior year)
Consumer math – elective (senior year)
Latin
4 years
Speech
1 year
Geography
1 year
Composition
1 year
Economics
1 year
Catholic Social Teaching
1/2 year
Art
1 year
Logic
1 year
Music
1 year
All SJVS high school students must take all the courses offered for their grade level and are therefore full-time until graduation, however, some requirements may be waived by the Administration upon review.